Hockey History
One of these hockey cards was included with each original "Paterson H
ockey League Bar" sold by the Brantford, Ontario-based manufacturer during the 1923-24 NHL season. The
set consists of 40 cards measuring 2" by 3-1/4". Each card has a sepia tint with the player's distinct likeness and his name, team, card number and "National Hockey League" printed in a larger border area at the bottom edge; card backs are blank.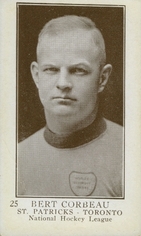 On the back of the wrapper was the enticement.
"Every 'Paterson Hockey Bar' contains a handsome photograture of a famous Canadian National Hockey League star. For the complete set -- 40 different players -- we will send you prepaid a handsome pair of hockey skates. We will return the set of cards to you with the skates."
In order to avoid having to ship skates all over Canada, Paterson's made the card featuring Toronto St. Pat's defenseman Bert Corbeau a short print.
No, I did not find a cache of cards or even one like the Defiance, Ohio baseball card find. But I did find out a piece of history relating to this card that I never knew about.
The Paterson Stone
(every time I drove by, there was always a horseless carriage in front of the stone, so I couldn't get a great photo)
It is on display in front of the house at 85 Charlotte St., now home to the Montessori House of Children which dominates the corner of Charlotte and Chatham streets.
The stone is a carriage stone or step. It is in line with the home's front door, and was used as a stepping stone for those about to enter a horse-drawn carriage.
The residence at 85 Charlotte Street is associated with the Paterson family. William Paterson carried out a long and important career in government within the City of Brantford, beginning with his election to Town Council. He later became Mayor of Brantford and served as MP for South Brant. He retired after 39 years in the House of Commons and 15 years as the Minister of the Crown.
Paterson was a prominent businessman who, with partner Henry Leeming, opened the Leeming and Paterson Bakery and Confectionery. The company grew into the William Paterson Co. and was later taken over by George Weston Ltd. Funny how things like this turn up. When I read the story of this stone, I knew of this hockey card release. Did some investigating and found out the connection.
History in my own "backyard".