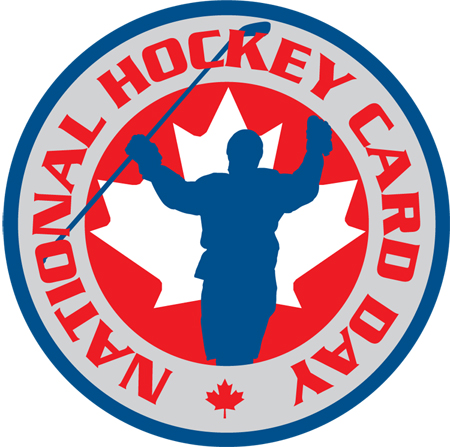 Since the year 2000, the CBC has aired an annual special Hockey Day in Canada broadcast to celebrate the game in Canada. The broadcast includes hockey-related features all afternoon, leading up to NHL action featuring the seven Canadian teams . This year we had the Oilers vs Wings, Jets vs Senators, Leafs vs Canadiens and Canucks vs Flames. Upper Deck has helped celebrate by having NHCD. You can see pictures of the cards and see the checklist on other blogs and on the UD site. This year I had to find a new LCS as the last one closed in t he last year. First of, my pal Sal at PunkJunk bought a case of OPC hockey.
There was a Canada only redemption program where 50 wrappers got you a 6 pack of cards , 5 special red-bordered version of the entire 600-card set and one unique card from a 50-card All-Star set . I brought these in two weeks before NHCD and they were ready to be picked up on Feb 9th. Killing two birds with one stone. My new store is CloutsnChara
I brought my wife with me some I could get another pack. When I arrived, they handed out a 2011/12 UD series 1 tin with one pack of 2013 NHCD and one pack of 2010 NHCD. Inside was also a raffle ticket for a signed mini helmet by rookies from the NHLPA Rookie Showcase (didn't win) ;( After buying a few singles, I'm still two cards short of a set but I should be able to get them somewhere. Now a few days before this, I joined Upper Deck's National Hockey Card Day Facebook page. There was a contest where you could
show pictures of you and your NHCD cards for the opportunity to score FREE Team Canada autograph cards
We know that our fans love free trading cards, but they love FREE AUTOGRAPH trading cards even more! Upper Deck has put together a small allotment of autographed Team Canada cards from players like Casey Cizikas, Marcus Foligno, Jonathan Bernier, Jamie Benn, Adam Henrique, Tyson Barrie, Cody Eakin, Ryan Ellis, Brayden Schenn & Sean Couturier to use with Canadian fans on National Hockey Card Day .
I did get notification that I was one of the lucky recipients of an autographed card.
Plus I got my wife to pick up some packs for me and I got a 12/13 UD Tomas Holmstrom jersey card and a UD 11/12 SP Authentic Future Watch Rookie autograph of Sean Couturier. Better let her pick any future packs. I'm trying to decide which one I hope to receive. I'm leaning toward Henrique as he is a local boy.
And in the US of A, hope your National Hockey Card day is a great one.