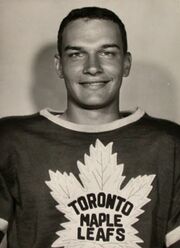 Right-winger Kenny Girard played a few games for the Toronto Maple Leafs in the late 50s. He was a decent scorer and checker who enjoyed a fine career in junior and the minors.
The Toronto native scored 58 goals in three seasons of junior with the Toronto Marlboros. He played a few games for the Leafs late in 1956-57 and at the start of the season. He spent most of his first pro season in 1957-58 as a useful two way player on the Rochester Americans of the AHL.
A fine golfer, Girard devoted the 1958-59 season to playing pro on the links before dressing for one game with Toronto in 1959-60. He played parts of the next three years in the AHL, WHL and EPHL before retiring in 1962. His NHL totals were 7 games played with 1 assist and 2 PIM.
Received this dark blue ink signed card TTM.
Unused letterhead and return envelope postmarked 1987.