Rick Jodzio
Sorry Rick, you'll have to wait another year. (and all you readers also)
In keeping with the family birthday theme, I've written about My Three Daughters.
Now its time for the one and only
my wife
Patricia
Now I don't know how she puts up with my hobby but she does. Sometimes my "junk" might be laying around but she hasn't thrown anything out yet (that I'm aware of). She likes baseball but does not appreciate the fine game of "ice hockey". She thinks it's too violent and that is why I like it. Gee, I like the pretty passing plays too. Nothing wrong with a little dustup now and then. I do receive blaster box surprises now and then.
But now as we have just finished some cake, I'll say
HAPPY BIRTHDAY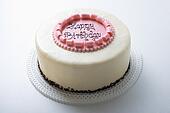 UPDATE
Brantford Hockeyfest is this weekend and I will try and get out to it. They have just announced . A dozen former NHL players will be on hand to sign autographs Saturday and Sunday from 11:30 -1:00 and 2:00-3:30. This group includes Theoren Fleury, Rick Vaive, Gary Leeman, Zac Dalpe, Tim Brent and local NHL alumni. (I'm guessing Jay Wells, Brent Gretzky, Paul Szczechura, Adam Henrique). Hopefully I can get there and score some signatures. Either way, I'll post something next week on this event.