There are two upcoming opportunities here in Brantford to nab some signatures.
It's the 20th annual Walter Gretzky CNIB Golf Classic and organizers are gearing up to make the final year noteworthy.
The golf tournament, which will take place at the Brantford Golf and Country Club on July 10, will be preceded by the annual memorabilia auction on July 9. Aside from all the tremendous items up for bidding, those attending the auction will have the opportunity to take part in an autograph session with former hockey players Johnny Bower, Bobby Baun and Lori Dupuis.
Both won Stanley Cups with the Toronto Maple Leafs.
Dupuis is a former Olympic gold medalist with the women's national hockey team (2002).
The autograph session will take place prior to the start of the auction, which is free to attend and open to the public. The auction preview will take place at 6 p.m. with the auction to follow at 7 p.m.
Link to the online auction.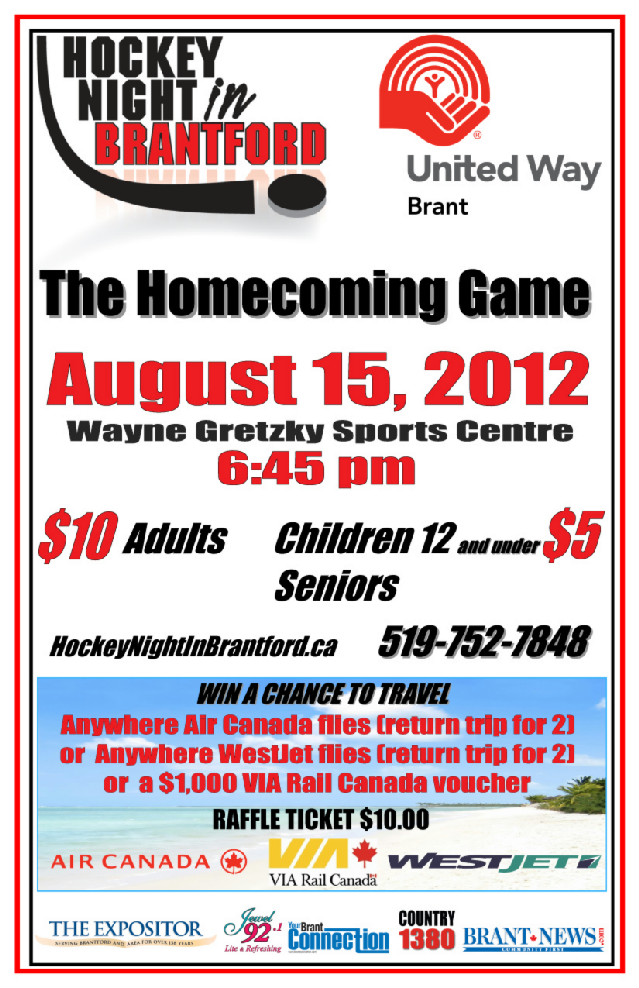 Hockey Night in Brantford, the Homecoming Game, will be played at the newly constructed Wayne Gretzky Sports Centre on Wednesday, August 15, 2012, with Opening Ceremonies at 6:45 pm, Homecoming Game at 7:00pm.
T
he roster of confirmed players totals 19 people- former NHLers Pat Hickey, Dan Gratton, Greg Hickey and Ken Murray, WHA alumnus Jim Turkiewicz, Brantford Smoke alumnus Paul Polillo, WLU assistant coach and WNHL alumnus Cindy Eadie, OHLer Keaton Turkiewicz, Syracuse University's Jenesica Drinkwater, Brock alumnus Sammy Simms, CWHLer Sarah Digg and MPs Peter McKay, Denis Lebel, Greg Rickford, Patrick Brown, Gord Brown, Ben Lobb, Dean Allison and Rick Dykstra. There's also a possiblity of more names to be added from the people who have been invited. (Adam Henrique??)
But this is my Hobson's choice.
Both of these events take place on weekdays around 6 pm. I work until 8m and then have a 1 1/4 hour commute home to Brantford. As much as I would love to attend these events, I think work takes precedence. (and my wife would agree). Now to try to find someone who will attend these events and get me some sigs.
I don't know what is worse, having no signings or ones you can't attend.
What would you do if your were in my shoes? (sz 81/2)