Nothing today so another pack rip. Nothing too hard this time. Lets do
95/96 Fleer Skybox Emotion
8 cards per pack. 200 card base set.
Insert ratio
X-cited 1:3 packs
generation N-ext 1:10 packs
N-tense Power 1:30 packs
X-cel 1:72 packs
Spokeperson JR.
Back of box with gold SEAL OF AUTHENTICITY
Foil pack
Front of cards has gold foil Skybox logo, players last name and brand Emotion. Silver foil has the emotion over full bleed large player photo.
Backs has two player photos, 94/95 and NHL total stats, number, little writeup and players full name in gold lettering. Prety busy looking.
And now for some EMOTION.
# 17 Brian Holzinger--Front and back. When I think FLUID, I think Holzinger. Not. I think of something liquidy and refreshing.
# 22 Phil Housley--PURSUIT, maybe trivial.
# 63 Igor Somebody--Is CONFUSED an emotion? It says CRUCIAL here but what is crucial is What the heck is his name. Front says Kravtchouk. Back says Kravtchouh. I always thought it was Kravchuk.
# 99 Randy McKay--POSSESSED
under the influence of a powerful force, such as a spirit or strong emotion
Yeah, thats him.
# 133 Eric Lindros--PRESSURE
This was 5 years before his collapsed lung. And what if he flown with the team at the air pressure. HMM
# 162--Brian Bradley--CRUISIN'--Gee, don't know if I'd want to be classed as a FLOATER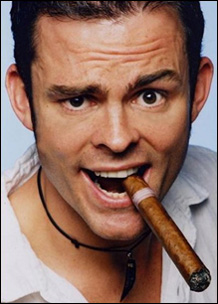 # 186 Jim Carey--SMOKIN'
Oops, heres the right image.

# 193 Nikoli Khabibulin--READY


Ready to have his picture taken--and not for a hockey card either.
I wonder if all 200 cards are different. Thats a lot of emotion there. There was also a
Jeremy Roenick Exchange Card (comes in packs). A
lso an offer to receive an exclusive Skybox Emotion NHL Skymotion card featuring Jeremy Roenick--The unique card featured three seconds of actual game footage of JR scoring a goal. The offer for this card expired on June 30, 1996.Send 3 Skybox Emotion NHL trading card pack UPC codes and $25.00. Offer valid until June 30 1996 or while supplies last. Now from that wording, I assume that if there are any still available, the offer is still valid. It's a moot point anyway as I've got 3 UPC codes but not the $25.00.
Well, my pretties, thats it for todays rip.